Planning to Open a New Office? Looking to Redesign Your Current Office? Our Process Helps Ensure Your Success
Completing an office build-out or redesign requires careful attention to the details. At System Office Design, our team of experts walks you through the entire process to ensure your satisfaction. Whether it is working with an architect during your interior design or providing furniture options for updating specific areas of your office, we eliminate the headaches and make the entire design process as smooth and seamless as possible.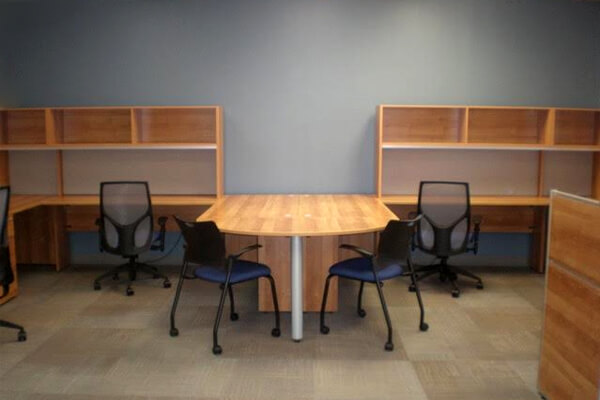 Every room of your office space is reviewed, including but not limited to the:
Reception Area
Conference Room
Individual Offices
Open Space Areas
Kitchen
Cubicle Areas
Executive's Offices
Collaborative Areas
Workspace goals are identified and outlined. Collaborative spaces are established for enhanced employee productivity. Your company brand is integrated throughout the look and feel of your interior design.
If this is an office redesign project, any features which are compatible with your desired results and consistent with your brand are identified and retained. After your input is received, a customized design plan is created based on your specific needs and budget.
Below is a summary of many of the touch points within the office design process:
We hold information gathering meetings with you to fully understand the scope of your interior design and planning project. This includes understanding your brand, the look and feel you want to convey, all employee functions and needs, and any special industry compliance requirements.
A space planning document is created based on your project's scope.
Computerized drawings are created to show how all of the project pieces will maximize your new office space.
A field measure can be completed onsite to show the office furniture "footprints", and exactly where and how they'll be placed in your new office space.
A finish schedule is created that outlines all of the materials selected (with swatches).
The office design and planning proposal, with multiple quote options, is sent to you and includes:

Color palette and product options for the products and services included in the proposal.
A menu-oriented format showing the available furnishing and material options, so it is easier to make your selections.
The ability to take control of the decision process as you can select what works for your needs, budget and time frames.

When approval is received, the proposal is sent to our project management team for implementation. This means:

Our team works closely with our selected contractors to implement your chosen design elements in a timely and efficient manner.
Your project is carefully tracked with attention to all the details, so nothing is missed. This includes your furniture order and interactions with contractors and all other parties involved. We function as your advocate during the entire process.
Frequent communications are sent to keep you up to date on your project's progress.
Estimated delivery dates are established with you.
The project components are ordered, received and stored in our warehouse before the project installation begins. (This is an important step within our process.)

The install is scheduled with each installer. At the completion of the install, all of the trash, including the cardboard, is removed from the space.
Once the project is completed, one of our specialists walks through your office space with you to ensure your new interior design has been implemented as expected and to your satisfaction.
Our process has been perfected over the years to ensure all products and services are accurate, undamaged and delivered on-time. This allows us to effectively and efficiently manage all elements of your project from A to Z, so you can worry about more important things like running your organization.
Interested in learning more about how we can design or update your office space? Call us today at (609) 514- 5334 to schedule a complimentary consultation appointment.