Designing and Furnishing Healthcare Office Spaces with Style, Energy, Performance and Revenues in MindDesigning an office solution that works in the healthcare industry requires an experienced specialist with healthcare office design skills and a great team of expert resources. Bringing all the right pieces together helps enhance your success
Your healthcare design needs are unique. That is why we give you options. This allows you to choose what works for your needs and budget.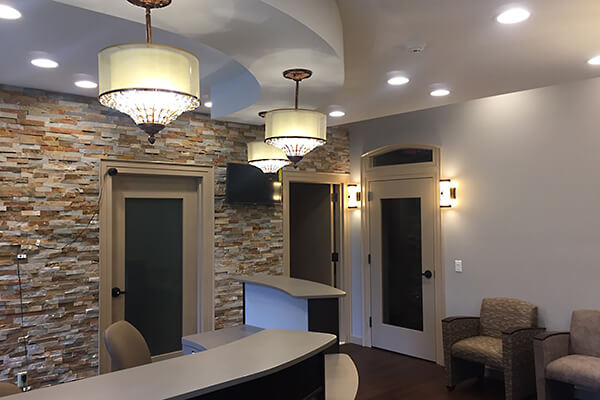 We'll work with you to ensure the space accomplishes your objectives, including:
Providing an inviting space that is relaxing, functional and confidential for both your patients and staff.
Furnishing plentiful seating for your patients and their guests in the waiting areas and exam rooms, so everyone is comfortable.
Creating a positive experience for your patients, so they will return and also refer other patients to your office.
Creating an attractive and inviting atmosphere throughout your healthcare space, so your patients feel relaxed and calm.
Giving your staff an efficient office space which meets their needs; including ample storage space, plenty of work surfaces and durable office furniture that lasts.
Optimizing all the above elements to help produce additional revenues and profits.
Here is a summary of many of the touch points within the healthcare design process:
We hold information gathering meetings with you to fully understand the scope of your interior design and furniture project.
Computerized drawings show you how we will place patient seating, consultation/private office furniture, and other room furniture. We work from your architectural drawing.
A finish schedule is created that outlines all of the materials selected (with swatches).
Furniture and accessories selections and budgets are presented for approval
The healthcare design and planning proposal, with options, is sent to you and includes:

Color palette and product options for the products and services included in the proposal.
A menu-oriented format showing the available furnishing and material options, so it is easier to make your selections.
The ability to take control of the decision process as you can select what works for your needs, budget and time frames.

When approval is received, the proposal is sent to our project management team for implementation. This means:

Our team works closely with our selected contractors to implement your chosen design elements in a timely and efficient manner.
Your project is carefully tracked with attention to all the details, so nothing is missed. This includes your furniture order and interactions with contractors and all other parties involved. We function as your advocate during the entire process.
Frequent communications are sent to keep you up to date on your project's progress.
Estimated delivery dates are established with you.
The project components are ordered, received and stored in our warehouse before the project installation begins. (This is an important step within our process.)
We will show you how to bring your healthcare design space to life. It all begins with you. We will help you to identify and define your objectives. You will then be provided with options showing how your space can be maximized. At this point, you can begin to paint a mental picture of what your office can do for you.
Once you decide exactly what you want, we take care of all the planning and implementation, allowing you to focus on what's most important – your patient's care and well-being.
We specialize in healthcare design for both medical and dental offices. We are a one-stop shop, working closely with you from start to finish to make your healthcare office design vision a reality. We help you choose the right furniture and equipment. In addition, we work with top professionals, such as health care furniture and equipment specialists and contractors who focus on the medical industry. With our full-service solution, your furnishings are seamlessly blended together to create a uniquely warm and professional atmosphere that makes optimal use of your floor space and helps your practice stand out.
All of this is possible with the right healthcare design team.
At System Office Design, we have been designing and furnishing healthcare offices of all types and sizes for over 20 years. Let us show you how we can inspire you to create a beautiful and efficient space to help your practice grow.
Ready to get started? Call us now at (609) 514-5334 to schedule your complimentary consultation.